31 décembre 2007
1
31
/

12
/

décembre
/

2007
14:54
Patrimoine Sportif & Mécanique wishes you a very Happy New Year
and hopes to meet you on the Montlhéry track in the near future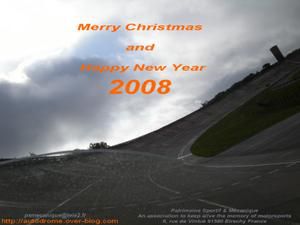 Patrimoine Sportif & Mécanique was fortunate enough to be received by UTAC chief executive at the end of the year.
It seems the mood has changed and that UTAC executives are now well aware of the importance of the Linas-Montlhéry Autodrome for the French automobile industry, but also for the history of motor sports.
As it had done for years, UTAC will continue to take care and consolidate the mythical track.
Some additional cosmetic restorations, such as repainting period advertisements on the monument, could be done, bringing back a real atmosphere such as was done at Reims.
A few restricted meetings will be welcomed, with emphasis on quality.

Let's hope that 2008 will be the year of the Autodrome!