30 décembre 2008
2
30
/

12
/

décembre
/

2008
16:03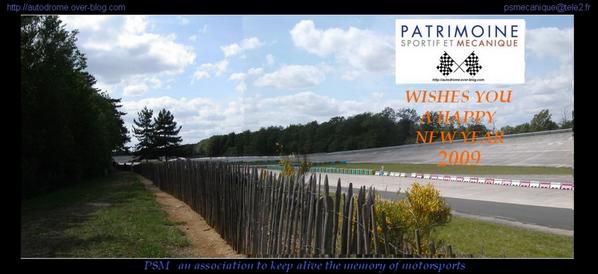 PATRIMOINE

SPORTIF

& MECANIQUE

wishes you an excellent year 2009 and hopes
to meet you at Rétromobile, Reims, La Locomotion en Fête,
and particularly on the Montlhéry Autodrome on September 19.



P

S

M

will also be happy to welcome you from April 25 to June 27 in the city of Montlhéry for an exclusive exhibition on the Autodrome.

The whole history of the Autodrome, from the design onwards, will be documented with posters, documents, films and souvenirs. Lectures will be given by historians of this mythical track.

Works of art from well-known artists such as Geo Ham, Rob Roy will also be displayed.

This will be an unique moment to discover the many facets of the Autodrome : record attempts, car racing, motorcycle racing, bicycle races, concours d'élégance, military depot during the war, etc...

Famous drivers will be present on opening day and historic cars will be displayed each saturday.

All details will be availbale on this blog.