18 avril 2012
3
18
/

04
/

avril
/

2012
21:05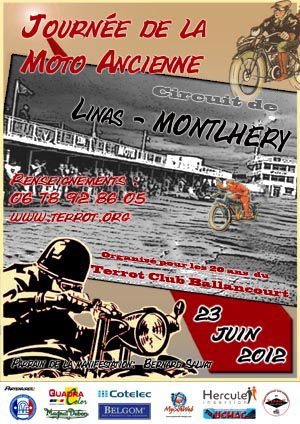 To celebrate its 20th anniversary, the Terrot Club of Ballancourt sur Essonne 91 France is planning for 23rd June 2012 ''LA JOURNEE DE LA MOTO ANCIENNE – THE ANTIQUE BIKE DAY'' at the mythical circuit of Linas-Montlhéry (Essonne), in the southern suburbs of Paris.
The aim of this event is to gather all the fans of motorbikes, side-cars, motorised tricycles from their origin to 1965, from any make, and to ride as a big family on the mythical racing circuit of Linas Montlhéry.
The day will offer a sequence of approx. 20 minutes same group series on the 3.405 km circuit of the Racing Complex. Each participant will have the opportunity to enjoy a minimum of 3 series rides.
Schedule for the day:
Check-in of riders will be from 7:30 AM to 9:00 AM. Over that time bracket, riders will be provided with the official anniversary plaque and are to comply with usual checks (technical control/roadworthyness, valid insurance certificate, etc…).
The riders briefing will be held at 8:45 AM for a start of the first serie scheduled at 9:00 AM.
A grand parade to gather all bikes will be held from 11:30 AM to 12:00 AM just before the lunch break. Series rides will resume at 2:00 PM to conclude at 5:00 PM.
Cost & Registration:
The 'early bird' registration cost is €75. This includes access to the circuit and a lunch hamper (value: €18). The deadline to benefit of the early bird €75 is 1st March 2012.
Past 1st March, the registration cost will be €85. Registrations will close on 1st May 2012. No registration will be accepted on the event day without pre-registration. For people assisting the riders, visitors and post-1965 bike exhibitors, there is a compulsory registration cost of €12 (no lunch hamper included). No access ticket will be sold on site on the event day.
We need to let you know that NO barbecue, open fires, alcohol drinks or BYO picnics are allowed within the Racing Complex. Lunch hampers at €18 will be offered for sale to people assisting the riders and to visitors.
For further details, please get in touch with Philippe Célérier, President of Terrot Club de Ballancourt on +33 6 78 92 86 05 or pbatcelerier@wanadoo.fr
Regards